The Ballad of Threk Michaels: Lonely No More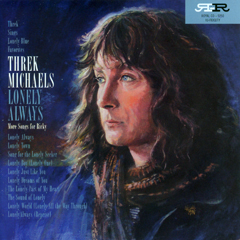 We see a lot of records here at AllMusic. A lot of slick major-label product to be sure. Also a large amount of independent music of all kinds, with enough money behind it to create some buzz or enough hype surrounding it to make it stand out. But the majority of what we see are albums on tiny labels with no money or promotion involved, or self-released labors of love that are destined to be heard by only a handful of people, if even that. Most of these titles get funneled through the data-entry process smoothly without anyone even noticing.
Every so often, though, something funny happens. It could be the cover, the band name, the album title...but something makes you stop the machinery and rescue the poor little underdog of an album. Case in point, Threk Michaels. This guy has it all. The name is amazing. The cover is spectacular, as you can see. The concept of the album is flawless too. Threk is apparently a huge Ricky Nelson fan (as one should be) and Lonely Always is a ten-song tribute to Nelson's signature ballad "Lonesome Town."
Helped by the Jordanaires on backing harmonies and a suitably restrained and simple musical backing directed by former Nelson sidekick Joe Osborn and played by some smooth Nashville cats, Michaels captures loneliness under glass and studies it like a scientist, with sweet ballads like "The Sound of Lonely," "Lonely Just Like You," and the amazingly titled "Lonely World (Lonely All the Way Through)." He sounds a bit like Ricky at times, but most importantly, he sounds like he's living the material.
If this stuff makes you all goopy, nostalgic and clamoring for more, there is another volume of Threk sings Ricky for sale on Michaels' website that features James Burton on guitar. Threk will never be a star, he'll never make it big, but he's making the music he loves and that counts for something.
Ricky would be proud.
Review by Tim Sendra, The AllMusic Blog
---
Threk Michaels Keeping it Legendary with the release of Lonely Always
With a career spanning three decades crafting phenomenal sonic landscapes and penning exquisitely powerful lyrics, local troubadour Threk Michaels seems to be really hitting his creative stride with the 2008 release of Lonely Always. The album serves as a time warp to the early days of the Nashville Sound, a period of time when standards of recording quality were at an all-time high and artists like Patsy Cline and Eddy Arnold were raising the bar in the studio.
With crystalline vocals that shimmer in their warmth, and a cast of Nashville recording legends including The Jordanaires in the studio, Threk has put out another masterpiece that will surely outlive many of the popular albums on the airwaves today. As a tribute to Ricky Nelson's timeless "Lonesome Town," Lonely Always serves as a song cycle for everyone who has ever felt lonely. Each song on the record has the word "lonely" in the title, blatantly putting forth the theme. With the vocal accompaniment of the legendary Jordanaires, Threk has captured the proverbial lightning-in-a-bottle by creating an album that would have fit just as well on WSM in the early 1960s as it does today. For a taste of Threk's rich sound, check out the track "Lonely Always." Check out three tracks from the album at Michaels' Myspace page.
Review by Wesley Hodges, The Deli Magazine
---
Now, here's a nifty and inspired idea for a concept album: A whole bunch of lovely, thoughtful and melodic tunes that all focus on the poignant universal concept of loneliness and pay homage to Ricky Nelson (his classic "Lonesome Town" is a major influence here), the old original sparkling Nashville Sound, Gene Pitney, and Roy Orbison. Fortunately, Threk Michaels has the necessary skill and talent to pull this rather dicey concept off.
For starters, his voice is just gorgeous: clear, smooth and commanding, Michaels' voice is a total joy to hear from start to finish. Secondly, we've got the famous vocal group the Jordanaires supplying the heavenly backing vocals. In addition, the arrangements are every bit as tuneful and polished as they ought to be. Plus all the songs possess a haunting and timeless quality which ensures that this album will resonate long in your memory after you listen to it. A wonderfully rich, subtle and glowing little gem.
Review by Joe Wawrzyniak, Jersey Beat
---
Nashville singer/songwriter Threk Michaels' new, beautifully performed disc Lonely Always represents another outstanding homage to Ricky Nelson, and is the ideal sequel to 1999's As True As You (Songs For Ricky).
Utilizing the theme of isolation, Michaels has composed 10 songs based on Nelson's evocative number "Lonesome Town." On such pieces as "Song for the Lonely Seeker," "Lonely Dreams of You" and "The Sound of Lonely," he manages to revisit a concept without exhausting it, singing with warmth, flexibility and authority as the Jordanaires and the "More Songs for Ricky Hall of Fame Orchestra" (including Joe Osborn, Glen D Hardin, Jimmy Capps and Eddie Bayers) augment, expand and provide musical depth and support to Michaels' vocals.
Here's a tremendous session that celebrates Ricky Nelson's music, yet displays all the things that make Threk Michaels' work valuable.
Review by Ron Wynn, Nashville City Paper
---
How many songs with the word Lonely can you possibly combine into one album? The answer is nine. That makes it about 6 or 7 too many if you ask me. Threk Michaels is an accomplished songwriter and a singer in the tradition of Ricky Nelson. That's what "Lonely Always" is all about, recreating the sound of Ricky's great ballad "Lonesome Town", a true tearjerker that really got to me when I was in "that" mood. Loneliness is over for me, thank you very much. Poor Threk is "Lonely Always" and while this might be really helpful self-therapy, a whole concept album like this can be pretty painful, even if every individual song is very well made, with great instrumentation by the "More Songs For Ricky" Hall of Fame Orchestra and with backup vocals by the famous and fabulous Jordanaires. My favorite is "Lonely Town", most reminiscent of Ricky. The teenager shooting star was smart enough to mix it up on his albums with great rockers and a few ballads. No rockers here, nothing but a true blue mood. Personally I prefer upbeat songs to lift me up, I wish Threk would have tried that.
Review by Gaby Maag-Bristol, Blue Suede News