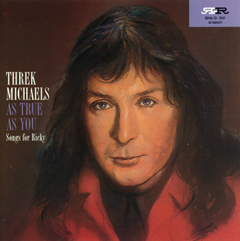 We Rick Nelson fanatics have to get our fix any way we can. With no "lost Ricky tapes" or "unreleased masters" coming out of the vaults, we get our kicks listening to the old greatest hits compilations and snapping up the fine reissue CDs courtesy of Ace, BGO and other foreign labels.
Occasionally a nice surprise comes along, like last year's As True As You, a Rick Nelson tribute album of new material recorded by Threk Michaels. It's not exactly a new Rick Nelson album, but it's as close as we're gonna get in this world.
Subtitled "Songs for Ricky," the CD is a ten-song collection, all written and sung by Michaels. It's not intended to be a soundalike album, but rather a "heartfelt" tribute to Nelson, whom Michaels calls one of his "musical heroes." From start to finish, the album is a genuine treat.
There are several keys to its success, foremost of which is the musicians that Michaels assembled for the project. Dubbed the "Hall of Fame Club," the backing group includes a lineup of rock and roll giants who were not only instrumental in Rick Nelson's career, but to all of rock music. Topping the roster is legendary guitarist James Burton, who, of course, has played and recorded with not only Rick, but also with Elvis, Jerry Lee Lewis, Johnny Cash and others. He may be the most respected session guitarist of the past forty years.
Also in the group: bassist Joe Osborn, who may have played on more hit songs than any other musician in history; piano player Glen Hardin, rhythm guitarist Jimmy Capps and drummer Roy Yeager. Nelson fans, of course, recognize that Burton, Osborn and Hardin all played on many of Ricky's greatest hits. If that's not authentic enough, backing up Michaels on vocals are the fabulous Jordanaires, the same guys who accompanied Rick, Elvis and others over the years.
The ten new tunes were written by Michaels and were "inspired by the compositional skills of Baker Knight and Jerry Fuller," writers of many of Ricky's original hits from the late fifties and sixties. (Knight provided Rick with "Lonesome Town," "Sweeter Than You," and "Never Be Anyone Else But You," among others; while Fuller supplied "Travelin' Man," "A Wonder Like You," "Young World," and its twin, ""It's Up To You.") These songs were mostly from the era that rock historians like to call Rick's "pop period" (as opposed to his earlier "rockabilly period" or his later "country-rock period"). But whatever label you put on it, it was great music. And Threk Michaels has lovingly and faithfully captured the spirit of that sound on the tracks of As True As You.
The whole thing was recorded in the historic RCA Studio B on Music Row in Nashville, using arrangements provided by Glen Hardin "in the style of those originally created for Rick Nelson by Jimmie Haskell," Nelson's longtime arranger. In other words, Michaels did everything he could to record a brand new disc that has the same sound and feel of an original late fifties or early sixties Rick Nelson record.
A tough assignment, but he nailed it. The first track, "As True As You," sounds so much like an early sixties Rick Nelson song, you think you're hearing "Travelin' Man" for the first time. That's the best tune on the album, but there's not a clunker in the bunch (which is more than you can say for some of Rick's own albums). The love song "My First Night With You" is a special gem, as is "Have You Ever Tried To Find," a plaintive ballad that closes the disc and effectively used the Jordanaires' talents. As least two of the numbers, "You" and "I Got A Reason To Believe," have a tiny bit of country flavor to them, as did much of Rick's music.
Michaels is not an impersonator; he's not trying to mimic Nelson's voice on this album, although he does demonstrate a similar richness and resonance. The real keys to this tribute are Michaels' songs, Hardin's arrangements and -- especially -- Burton's incredible guitar work and the Jordanaires' wonderful backing vocals. Any of the ten songs would have fit nicely on Rick is 21, It's Up to You, More Songs by Ricky or any of his other Imperial albums. Even the graphic design on the Michaels CD label is a nostalgic tribute, with the Royal Records logo very reminiscent of the logo used by Imperial Records in the fifties.
-- Steve Ellingboe, Discoveries magazine, March 2000
---
Threk's a pretty weird name, but then so was Elvis. I saw a claim in the materials that came with this to the effect that Rick Nelson was planning to cut some or all of these songs just before he was tragically taken from us. Since it's not in the notes actually on the CD, I don't know about that, but there ARE songs here you could imagine him doing, and the subtitle is "Songs For Ricky." The packaging is also designed to look like one of Ricky's Imperial albums, except Michaels' hairdo would suit Rick's '70s period more, if it was shorter. Far be it from me to complain! Anyhow, although there is a preponderance of starry eyed romantic tunes here, there is also James Burton and The Jordanaires, Joe Osborn, and Glen D Hardin. Threk's voice is not quite as close to Rick's as Ronnie Mack's, but it's in the ballpark too. This stuff was cut at RCA's Studio B, where an awful lot of great music has been played. You know what, this stuff also reminds me a little of Jonathan Richman -- the guy who sang those songs in "Something About Mary" -- there's that innocence that's hard to believe in this world today. But I've been told Richman is straight ahead and sincere, and I'm sure Michaels is, too. I wish Rick HAD lived to cut a few of these tunes. This is as close as we'll get to that.
-- Marc Bristol, Blue Suede News #46, Spring 1999
---
Ricky Nelson commanded a legion of loyal fans during his teen idol days. Few of them could be any more visibly faithful to Nelson's enduring musical blueprint than Threk Michaels.
Michaels states his goal on the rear of this release: to make "a brand new album of all new material that feels, looks and sounds like the incredible music he was making for Imperial Records between 1957 and 1962." To that end, Michaels assembled most of Nelson's old studio cohorts -- elegant lead guitarist James Burton, bassist Joe Osborn and The Jordanaires -- and set out to recreate Nelson's youthful magic. Even the packaging reflects Michaels' Nelson obsession, mirroring Imperial's late '50s artwork right down to the proper typefaces and a mock Imperial logo.
Michaels wisely doesn't attempt an overt vocal imitation of his idol, though his engaging understated approach does suggest Nelson's own, especially on the opening title track (a dead ringer for something Jerry Fuller might have penned for Nelson circa 1961), "My First Night With You" (the lyrics of which might have been a little adult for teenaged Nelson), and "April Fool." Burton is succinct and inventive as ever (if a little less aggressive now in his picking), The Jordanaires add their trademark vocal blend and Michaels attains his goal without coming off like a clone of the man he proclaims "crown prince of rock and roll."
Nobody will ever replace Nelson in the heart of his fans, but Michaels' loving tribute might impress a lot of them.
-- Bill Dahl, Goldmine magazine, March 26, 1999